Yana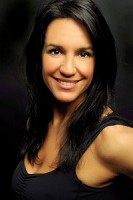 Yana's passion for group fitness blossomed in 1993 when her Track & Field days ended while attending Ohio University and after she completed her 5th triathlon season. As a lifelong athlete she knew the importance for ensuring she acquired nationally recognized certifications and continues to maintain them as a way to guarantee her level of standardized competency and protection for her students. With two decades of professional fitness training Yana regularly expands her teaching repertoire giving her the knowledge and expertise to proficiently instruct multiple formats including Bootcamp, HIIT, Kickboxing, Step, BOSU, Spinning, Pilates, Core, and Resistance Training. But as she approached the age of 40 Yana recognized the importance of educating others on the benefits of using the body's own weight to isolate, strengthen, and sculpt all major muscle groups in a non-impact environment… hence BarreFit!
Yana instructs the following:
The Ultimate Sustainable Full-Body Sculpting Workout!

Barre Cleveland's signature BarreFit classes consist of many different strength exercises that work each major muscle group to exhaustion along with stretching intervals to release the built-up fatigue. This combination creates a fitness system that firms, lengthens, and re-shapes muscles to their most optimal form. In addition, each class is fast-paced, set motivational beats guaranteed to get you feeling exactly how you should at each moment, keeping you inspired and moving!

The workout is NOT dancing and not cardio per se, but you'll break a sweat due to the pure effort of maintaining those graceful (or not) extensions! Part of the appeal of small movements is that they target your smaller muscles - your stabilizers. Your body will be shaking with the exertion, and that's a good thing - it's the reshaping of those tiny muscles that will really give you the definition you're craving. Plus, instead of making you huff and puff, tiny movements allow you to really concentrate on your form and get it right for maximum results.

Lastly, each BarreFit workout is multi-level, which means beginners as well as advanced exercisers are completing the same workout. Throughout class we demonstrate modifications to more complex moves so that each woman can succeed as well as enjoy the workout at their own pace.

REQUIRED EQUIPMENT: Grippy sock must be worn during class. Please bring a water bottle.




Take your fitness to the next level and improve your athletic ability. Up your barre game with BarreSprint! ROCKSTAR Elite Members Only!BarreSprint is a type of HIIT workout where you give maximum effort through quick intense bursts of exercise followed by short, recovery periods. Since it's strictly cardio you shouldn't consider it your average barre workout. It was created to provide our Elite clients with a well-rounded Barre Cleveland commitment. BarreSprint, the best 30-minute workout you can do, barre none.

What exactly is HIIT training? HIIT, also known as High Intensity Interval Training, includes workouts designed to boost your metabolism while shedding calories and fat quickly. The ultimate workout lies in this powerful combination. It's essentially a series of very short, super-intense, cardio-strength intervals interspersed with short recovery periods and targets the whole body through continuous, precise, controlled movements and functional exercises.